Predictive marketing analytics is a simple concept to grasp. Imagine if you had a software that took historical customer data and used it to determine a customer's future value. Better yet, imagine if you had a predictive model that helped you better identify tomorrow's top-tier customers. Would this help your sales and marketing activities? It most certainly would.
Predictive marketing solutions provide companies with a probabilistic model, one that helps them decide which customers have the highest growth potential. However, data enrichment is key. The more data you gather, and the more you enrich that data, the stronger your predictive model.
Your company's growth depends upon your ability to identify your best opportunities.
Success means you know which leads have the highest probability of becoming customers, and which existing customers have the highest probability of becoming your next big account. However, it's not automatic. Your customer data points the way but your marketing team must make things happen. Using that data properly is essential. Here are some of the top predictive marketing strategies for B2B enterprises.
Top of the Funnel Activities: Prospecting, Lead Nurturing, and Lead Prioritization
The days of randomly making cold-calls are over. Companies employing predictive marketing analytics identify top prospects by using several markers or signals that define a prospect's potential. Has the customer recently expanded? Did they apply for a new grant? Did they release a new product, upgrade an existing product, renew a long-term contract, win a new contract, or develop a new cutting-edge technology? Companies can identify the highest opportunity customers by comparing these markers to existing customers, ones who took similar actions and experienced similar events in the past.
Lead Nurturing and Lead Prioritization
Every company knows that the quality of the lead often determines the quality of the customer. However, it's also well-known that not all leads are the same. Predictive marketing models improve lead scoring and lead prioritization by allowing companies to sieve the good leads from the bad. Sales is then able to prioritize leads based on several cross-referenced data sources.
Comparing demographic data about buyer personas helps companies better understand how long the sale might take, what might be purchased, and how often that customer will return. That data is cross-referenced to firmographic data, which defines company attributes like revenue, size, market niche, market position, history, and geography.
Finally, behavior-based data is used to round out the predictive model by defining the seriousness of the lead's actions (filling out forms, requests, emails). Therefore, when a high-level buyer persona from a well-recognized market leader fills out an online request form, then that lead is recognized as having greater potential than a lead emerging from a mid-level manager in a new startup.
Middle of the Funnel Activities: Customer Segmentation and Account-Based Marketing Activities
Getting customers into your funnel is one thing, but knowing which customers, or groups of customers, might get stuck, and why, is a whole other story. Marketing can use predictive models to anticipate future issues and delays. If a given customer segment or buyer persona typically has a longer sales cycle, then sales and marketing can work together to identify future roadblocks. It could be as simple as knowing that certain customers have longer budget approval processes or that there is always more than one decision maker involved in a given purchase.
Grouping customers and personas into different categories and stages allows sales and marketing to deliver focused content, unique email campaigns, and other customized digital marketing initiatives. Ultimately, it's about knowing how and when to engage customers at the right time with the right prompts. Customer segmentation also helps to improve customer engagement because predictive models can anticipate future customer requests.
Account-Based Marketing Activities
Predictive analytics can help sales and marketing identify top-tier prospects and customers that require unique value propositions and specific account-based marketing (ABM) plans. Leads that exhibit certain markers can be segregated so that marketing and sales team can come up with a unique marketing plan built around the prospect's business. Customized content marketing and email campaigns can be used to move ABM customers through a customized funnel. Data enrichment can then help marketing and sales identify the best strategies for future customers and prospects.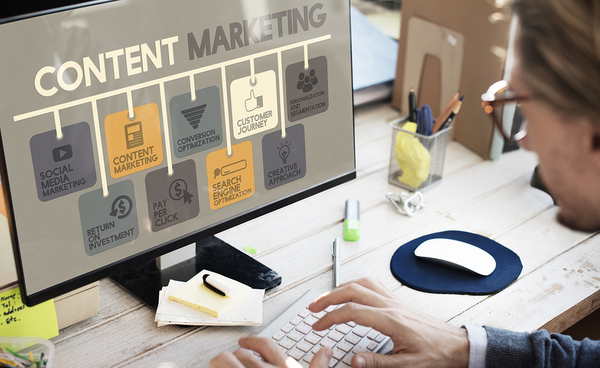 Predictive marketing helps with ABM plans and strategies.
End of Funnel Activities: Up-selling, Increasing Customer Lifetime Value (CLV), and Increasing Revenue
Up-selling and Cross-selling
Predictive analytics models help sales and marketing teams identify customers for up-selling of complementary products and services. Historical data can be leveraged to maximize customer values after the sale through customized after-sale email campaigns and promotions, ones geared at getting these customers to buy ancillary support products. Cross-selling also improves. Marketing can isolate common markers and signals from existing customers that can be used with like-minded buyer personas.
Increasing Customer Lifetime Value (CLV)
The longer you retain customers, and the more they buy, the greater their lifetime value. Historical marketing data can be leveraged so that companies can avoid the mistakes of the past and focus on the strategies that have a higher probability of success. Predictive marketing can help sales identify specific customers segments and buyer persona types that exhibit higher retention rates. This, in turn, can improve how companies isolate and group different products and offers to maximize CLV for specific customer groups.
Every industry has a portion of its market where customers are willing to pay more. These customers tend to have an easier time paying higher prices for high-value offers because they respect and appreciate best business practices. They value their suppliers for their engineering competencies and speed of response. Identifying these customers is much easier with predictive analytics.
Candidates for premium pricing exhibit certain characteristics that other customers likely don't. Identifying these markers through historical data allows sales to pinpoint customers who are likely to pay premium prices. Indicators may include identifying how these high-value customers handle the bid process, which suppliers they forward requests for quotes (RFQ's) to, and the type of contractual agreements they sign. All of this data can be enriched for future sales activities.
Predictive marketing is here to stay. It's a solution predicated on using historical/lagging indicators to determine future/leading indicators. For most companies, this type of data accuracy was reserved for complex systems or software and not sales or marketing. Not anymore.
To learn more about how ReachForce SmartForms can help you optimize lead generation and improve your impact on revenue, sign up for a free trial and get a demo today.
Source
https://www.reachforce.com/blog/top-predictive-marketing-strategies-for-b2b/