Each year, over 17 million people – men and women – visit plastic surgeons to augment their appearance. From minimally invasive procedures like Botox to more in-depth surgeries like tummy tucks, liposuction, and face lifts, patients seek the advanced methods and technologies that top surgeons deliver. The question is: are you using equally essential plastic surgery marketing strategies to augment your practice?
Why Plastic Surgery SEO and Marketing Matters
When it comes to cosmetic surgery, consumers opt for professionals who offer the latest treatments and cutting-edge techniques. Staying on top of advances and innovations is critical.
But how do potential patients know that you deliver these industry-leading services? Word of mouth? Sure. That's particularly potent in the medical field. But more and more people rely on internet searches to find surgeons and to vet them, to a certain extent, before scheduling a consultation.
This is why it is so important to focus on digital marketing. Here are some strategies you can implement for growth:
1. Establish Your Authority
People need to trust their surgeons – trust their skills, their knowledge, their results. You must create an authoritative online presence that reassures and instills confidence. The best way to do this: create content. Just a few of ideas:
Describe the latest techniques you are using, the most popular procedures, new options for common complaints.

Create videos of procedures or stream one live (be sure to secure all of the proper authorizations).

Provide FAQs for first-time cosmetic surgery patients.

Link to carefully curated content (e.g. articles from top doctors, scientific studies, etc.) via your social media accounts.

Guest blog for relevant sites in exchange for a high quality link.

Host webinars explaining the basics of your most sought-after procedures.

Post client testimonials and reviews.

Feature the ever-popular before and after photos.
Not only does this content appeal to potential clients, it helps you rank better in the search engine results pages. In other words, people can find you more easily – and they will like what they see.
2. Focus on Local Search
When a prospective patient enters in a search such as "Plastic Surgeon in South Florida," the results include a "3 pack." This is a list of three local businesses that includes essential information like NAP (name, address, phone number), map, starred ratings, and quick links for directions and website.
These results are highly prominent, and this leads to more traffic. Promixity is important when it comes to landing in the 3 pack, but you can also boost your visibility by requesting ratings from patients and registering your practice with .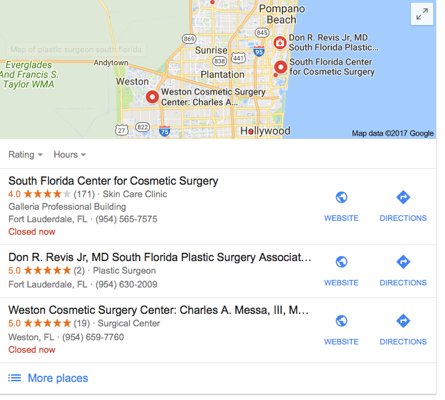 3. Leveraged Paid Methods
Organic plastic surgery SEO is critical, but do not neglect paid search to help increase visibility, traffic, and conversion rates. AdWords is one option: these targeted ads appear alongside relevant content, so you can reach people who are looking for the services you offer.
You can also use ad retargeting: say a web user browsed through your website and clicked away. You can serve up ads that align with their interests. This can help draw them back to your site. Remember, today's consumer journey is not linear. They take a winding route, full of research. Retargeting recaptures their attention and keeps your practice top-of-mind.
This is just the beginning! Your plastic surgery marketing firm can help you plan and implement winning strategies to grow your practice.
Source
http://blog.thatagency.com/plastic-surgery-marketing-strategies-for-growth